Woodhaven Renaissance Faire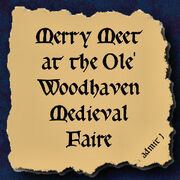 Woodhaven Medieval Faire is the location in
book two: The Curse of the Moonless Knight
, where
Alyson Bell
and her friends,
Sara
,
Cameron
and
Ethan
go to have fun one early Autumn weekend. It is where Alyson meets
Prince Ivan
, a royal knight sent back through time mistakenly by an evil witch. Prince Ivan has a connection to a young princess she'd met earlier named
Lily
. Prince Ivan is distraught when he sees Alyson wearing a dress, very similar to the one Lily wore when they were to be married. The dress is emroidered with the initial "L" which gives Alyson a clue as to its identity.
Upon arriving to the festival, they are immediately noticed by one of the wandering minstrels, Seamus Phyfe. He notices the dress Alyson is wearing is a very special replica of an authentic medieval dress and encourages her to participate in the costume event held at the faire. Unbeknowst to Alyson, Seamus is actually one of her spirit guides in disguise, guiding her towards revealing her identity to Abigail and Prince Ivan.
As Ethan and Alyson have their fortunes read by one of the faires many gypsies, Alyson recognizes her by her eyes. At first Alyson doesn't believe in the fortune and thinks she is scamming her and Ethan, however something pokes at Alyson's intuition and she begins to believe. This is a time when Alyson's senses are just beginning to form, and as Abigail quotes, she must trust. The gypsy reveals herself to be Abigail.
Abigail, aware that it is Alyson, trades an ordinary ring for the magical ring conceiling her daughter, Lily, who is hiding inside the magic of the ring. Ethan buys the ring for Alyson and puts it on her finger. Instantly there is a connection.
Coincidences occur and Alyson reveals Lily's true identity, as the lost daughter of Belladonna (Abigail's past life) and Seamus. Abgail hid her daughter, Lily, inside of a ring to avoid her being kidnapped again by the Black Widow Queen, who once stole her in a previous time to be raised as her own daughter. The ring is discovered by two thieves, Wendy and Duncan, who also existed in the past life of Belladonna and have come forth to find this magic artifact.
At the Renaissance Faire, Hremm Nevar makes a very public appearance and swoops down over the crowd, sending Prince Ivan hiding in the back of Abigail's tent.
In participating in a costume contest, Alyson is hunted by a possessed and false King, who attempts to lead Alyson astray.
The Woodhaven Renaissance Faire map was created using an actual map from the Kansas City Renaissance Festival in Bonner Springs, KS (used with permission), of which the Woodhaven Faire is loosely based in resemblance.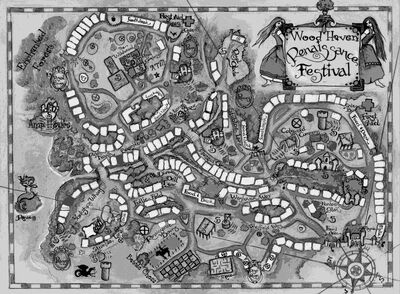 Battle Chess: a lifesize version of this classic board game