Annaliese "Lucy" (Lucky) Penny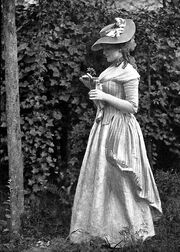 Lucy Penny is the stage name of actress Annaliese Lucille Penny. She is called "Lucky" Penny by her stage manager, Mister Daughtry, who is an abusive man who sends Lucy running into the arms of bartender,
Benjamin Macintyre
. Lucy reveals to Benjamin that he may call her Anna, as that is her real name. He informs her that he has seen her in many plays, including the most recent opening stage show at the theatre,
The Three Penny Opera
.
Lucy is quite affluent, lives in a penthouse suite at the top of the hotel owned by the family of Karina Von Buren. Although the in the harsh spotlight of her abusive manager, she realizes she'd rather trade her life of being a rich actress for love, particularly a deep love she finds in a very poor bartender. There is a soul connection between the two. When it is realized by Karina, she threatens Anna with murder. Karina's goons chase her into a local church where Lucy/Anna and Benjamin meet up with a kind stranger who disguises them long enough to get away. This stranger also shows them back to the garden where both Karina and Anna escape back to the present day and a battle ensues.
Annaliese Lucy Penny is part of a time travel series that takes place back in the early 1900's in book four: The Door of the Thousand Keys.
Annaliese is one of the past lives of Alyson Bell.
Age: mid-20's

Occupation: stage actress

Real name: Annaliese Lucille Penny
Stage name: Lucy (Lucky) Penny
Appearance: well-to-do, lavish dresses and wealthy clothes, furs and jewels, only the finest of the times
Hair: brown, long and curly
Relationship with: Benjamin Macintyre
Hazardous relationship with: Mister Daughtry