George Finch
George Finch is the biological father of Emelia and Sadie Finch (although George calls his daughter Sarah). He was married to Abigail Finch when she was in human form in the early 1900's. Tragically, George was killed in a carriage accident.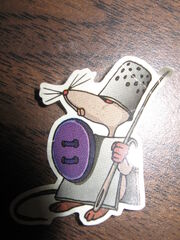 His next Earthly incarnation is that of a tiny brown mouse, granted privilege by
Elluna
and the Elders.
George the mouse can communicate with Alyson and helps her in several locations, including once finding his way into The Black Hollow. It is George that tells Alyson how to call Whisper to aide her. George the mouse, although small in size, is heroic in stature.
George the mouse is first discovered in book two: The Curse of the Moonless Knight. Although stories of his human incarnation, including the news clipping below are from book one: The Ghost of Colby Drive.
Age: father
Appearance: as human, he is an ordinary man and father; reincarnated as a warrior mouse
Relationship with: Abigail Finch
Father of: Emelia Finch, Sarah "Sadie" Finch