The Crystal Goddess and the Wish Keeper

Author

ISBN

(Canada) ISBN 978-0981131535

Language

English

Series

The mis-adventures of Alyson Bell
(Book 5)

Genre

YA Paranormal Romance Novel

Publisher

The Tenth Muse Books Publishing

Release Date

November 2011

Media Type

Hardback and Paperback

Preceded By

Succeeded By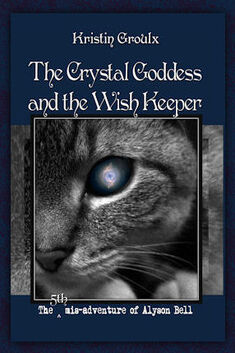 Book Five ~
Keeping in succession with the turning of the wheel of the year ~
Keywords for this book: Easter, rebirth, transformation of self, progression to ascension, overcoming death, creating life (synopsis to follow)
Join Alyson Bell in The Crystal Goddess and the Wish Keeper, the fifth in the mis-adventures of Alyson Bell series. It is told from the perspective of teenager Alyson Bell. This young adult paranormal romance novel is approximately 75,000 words. Readers who enjoy authors V.C. Andrews, Fiona McIntosh, Raymond E. Feist and older readers of J.K. Rowling will certainly take interest in this haunting novel.
It is targeted for girls aged 13-18, but appropriate for anyone 13+, as this novel delves into some deeper teen issues and is not appropriate for a younger audience.
This book is not stand alone and is part of a series beginning with The Ghost of Colby Drive, The Curse of the Moonless Knight, The Oracle of the Missing Dryad and The Door of the Thousand Keys. It is recommended these previous books be a part of your collection prior to enjoying book five.
Release date: 11/11/11
Ad blocker interference detected!
Wikia is a free-to-use site that makes money from advertising. We have a modified experience for viewers using ad blockers

Wikia is not accessible if you've made further modifications. Remove the custom ad blocker rule(s) and the page will load as expected.