Belladonna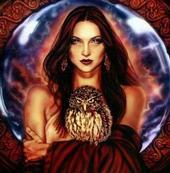 Belladonna or Doña Bella is the previous earthly incarnation of
Abigail Finch
's soul. She represents one of the karmic pasts that was needed to correct in order for Abigail to ascend. Belladonna is the incarnation before Abigail returned to Earth as the human Abigail Finch.
In a past life, she was known as Doña Bella or Belladonna and in love with the man known as Seamus.
She was a brothel madame, keeping track of her girls and unaware of any powers she possessed, but they lay dormant within her, sleeping until she is ready.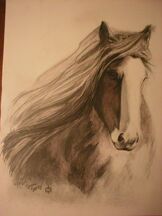 She owned several horses, including one called
Gypsy Epona
, whom later she flees on while she and Seamus are being chased by bandits.
She was sent through a time portal by the Black Widow Queen just after having given birth to twin daughters, Lily and Rowan. Later, when the Black Widow Queen makes herself known after the discovery of Lily at the Woodhaven Renaissance Faire, Abigail channels Belladonna and the Black Widow Queen and Abigail go for a final battle to the death.
Only having a glimpse of what it was like to be a mother and to feel love of a husband, her soul yearned to be returned and to become one again, so Abigail Finch was born.
Belladonna is part of the time travel series that takes placein the late 1880's (gold rush and wild west) in book three: The Oracle of the Missing Dryad.
Age: early 30's
Occupation: brothel madame; she also owned several horses
Relationship with: Seamus McGee